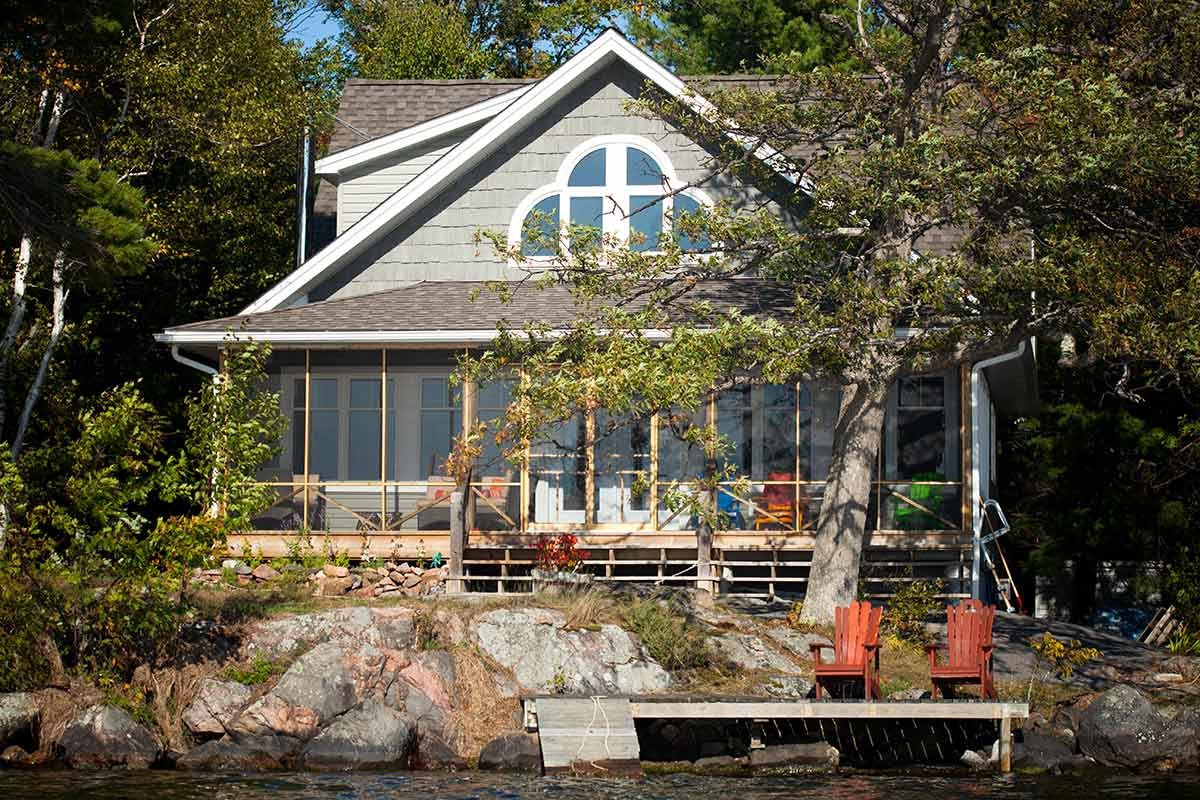 Testimonials
Directly from our clients.

Read all about it
Please scroll through this page to see why Timberline should build your next project.
---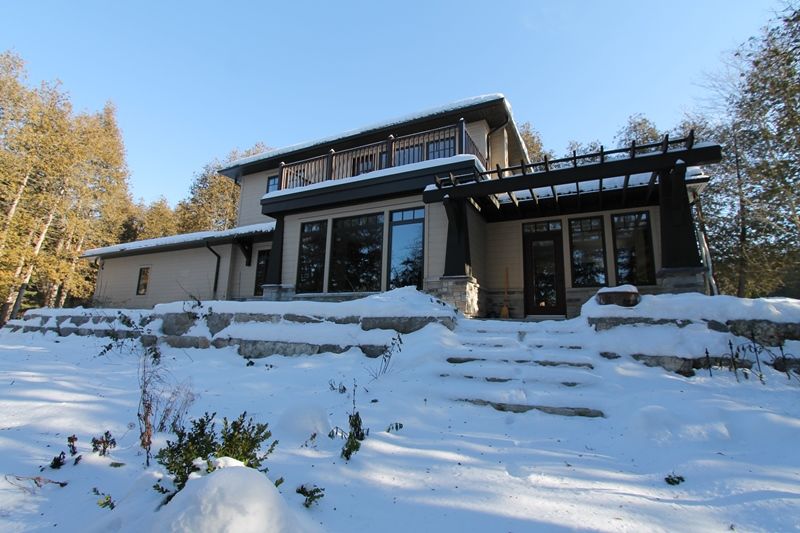 "A spectacular, though challenging, riverfront setting and a design concept for a home with a distinctive period feel, called for a builder who understood our vision and could carry it out. Ray and the Timberline Custom Homes team finalized the design, carefully incorporating desired elements of Craftsman style such as windows and millwork and sourcing appropriate materials. Keys to the success of our build were the care paid to details by the skilled Timberline crew and sub-contractors and the constant communication with us. While our new home is energy-efficient and built to meet and exceed current standards and requirements, it has an early 20th Century warmth and hand-crafted charm. We're delighted with our new home."
Doug & John, Quarry Lake, 2016
---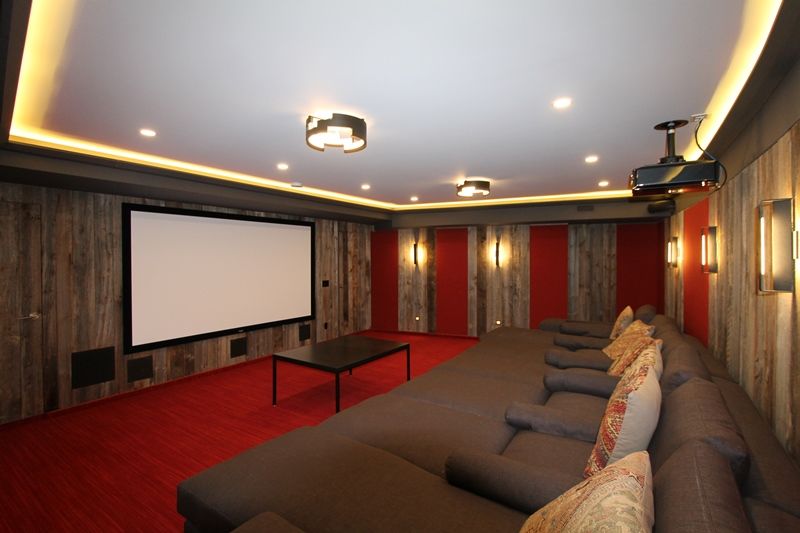 "We have used Timberline Homes to construct our wonderful home. Timberline's attention to detail and care in construction is exemplary. We recently added a theatre room and we are so pleased with it! Timberline's willingness to work with us and meet our needs provided for an exceptional state of the art theatre. Thank you Timberline Homes!"
Tiana & Marc, Stoney Lake, 2016
---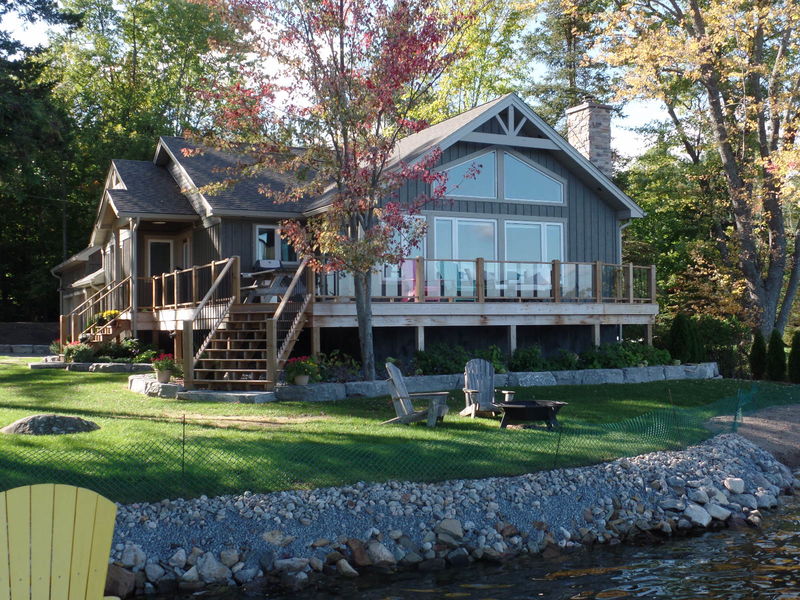 "We want to thank Timberline Custom Homes and their team for turning our cottage into a fantastic forever home for our family.
We first moved from Toronto 13 years ago, and were fortunate enough to purchase a Ray Northey home that was built when Ray was building his company. Our home was well built and perfect for us. When we wanted to expand we turned to Ray Northey and Timberline Homes to build a second floor screen porch to add to our upper deck. The workmanship was superb and added useful space for us.
When we decided to sell our country home and expand and renovate our cottage so that we could live on Stoney year round, we turned to Timberline Homes once again. Ray was gracious and discussed with us what our wants and needs were and from there he came up with an architectural plan that not only fit our family but kept the bones of our original cottage which was important to us as it held so many special memories. We want to thank Chris Clouthier, our project manager, and his team for their friendliness, skill and ability to make us feel part of the project at all points in the process. Our questions were quickly answered and any changes that needed to be made were quickly taken care of. The subcontractors that Timberline used during our build were professional and did a fantastic job.
We would definitely recommend Timberline Homes. We have been here for just over a year now and living on the lake in our beautiful home has been a dream come true."
Sharon & Rob, Stoney Lake, 2015
---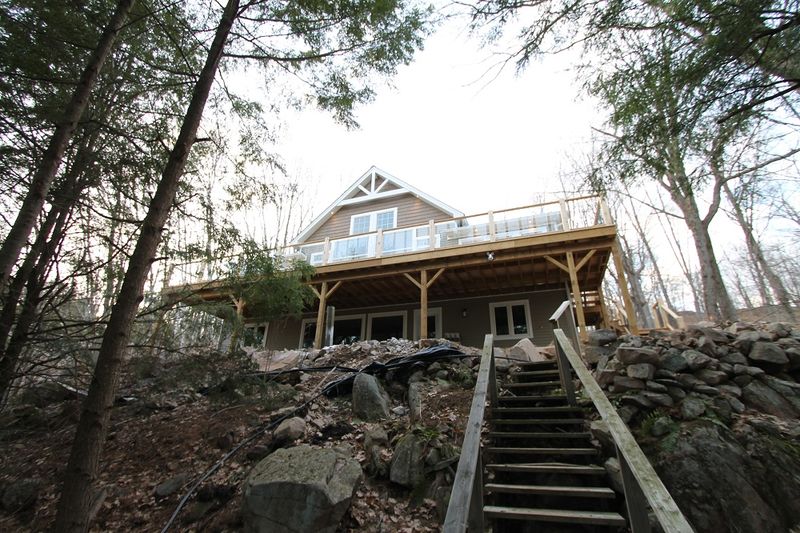 "Ray,

We are thrilled with our new cottage and will be pleased to be a reference for you and your team. A unique, custom-designed cottage, taking in to account the considerations of the users and constraints of land lot, was created by Timberline Custom Homes. Our cottage was a new-build delivered ON-TIME and ON-BUDGET. The 19-page quoted identified the costs in detail and the potential issues were identified before we signed the contract. We were kept apprised of progress with pictures and cottage was delivered clean and ready to move-in on THE DATE promised 9 months earlier. Surprise visits to construction site always found it clean and questions were promptly responded to. Ray Northey, his team and contract suppliers have a good eye and we valued the suggestions and recommendations they made to our new summer home. Excellent workmanship and pride in their skills is evident in our new property."
John, Cecile, John, MC, Anstruther Lake, 2015
---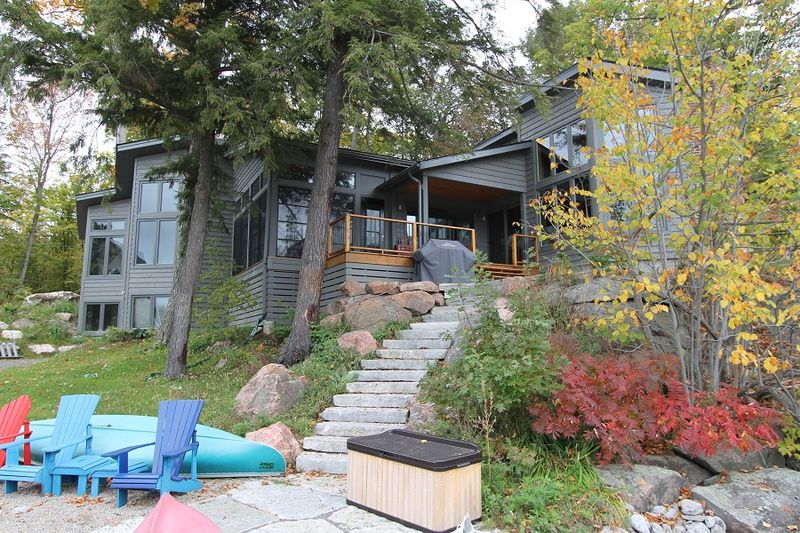 "An old story: three generations don't fit into a two bedroom cottage. We had heard good things about Ray and Timberline from other people on the lake, so we asked him to do a design that would add two bedrooms, another bathroom, a larger kitchen, and a screened porch, but keep the old great room, which we all liked. From his years of experience, he came up with a design that kept the look of the old cottage and still fit in with the rocks and trees. Adam's computer renderings were extremely timely and helpful as we went through many detailed design alternatives. The cost estimates were higher than we had hoped, but excited at the idea of having our "dream" cottage, we decided to go ahead.
Construction started in the fall of 2014, with a view to completion in the spring. Our first surprise was excavation of a full basement where we expected to find mostly bedrock. The next surprise was the coldest winter in years, really tough on the work crew, who somehow managed to keep going day after bitter day. Ray's team was great in terms of the quality of their work and their responsiveness to changes. Fortunately our son-in-law Pierre is keenly interested in all aspects of construction, materials and products, and monitored every detail of the work through to the finishing touches. He was in touch with Adam on a daily basis for months. Chris, the site lead, was a pleasure to work with, and very skilled and experienced in his work and coordinating the trades and the inevitable changes. All the subcontractors were also very good. The cost estimate and change order process was very disciplined.
Having used the cottage all summer, we are very pleased with the design and workmanship and would recommend Timberline highly."
Bob and Laura, Stoney Lake, 2015
---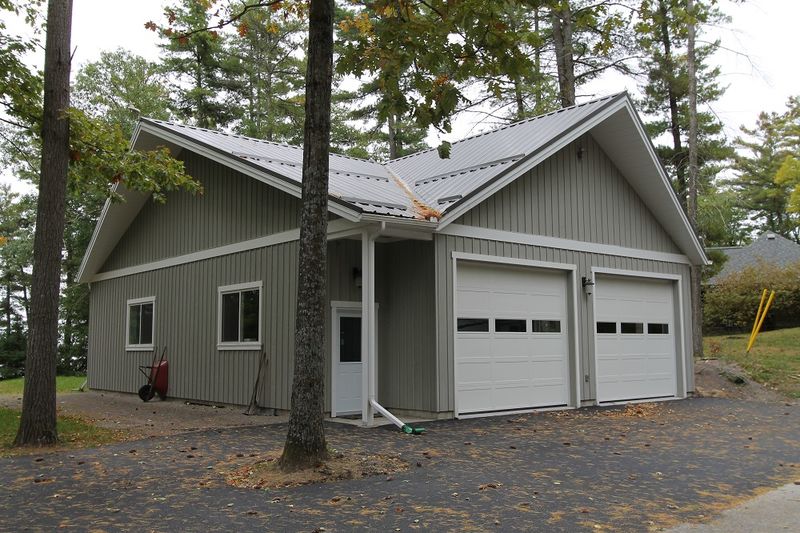 "Our existing garage had low door and interior height and a floor that flooded, froze and thawed every winter. I approached Timberline and had them prepare a plan ... several modifications later, a deal was struck and work commenced.
Our new garage is 36' x 48' and includes an external wood boiler heated floor, hoists, a laundry tub and bathroom.
All building projects run into glitches and gotchas and our project was no exception. All issues were handled professionally and efficiently.
We have known Ray Northey for many years as he has built my in-law's and several friends and neighbors' homes. Ray is very personable, trustworthy and it is always a pleasure to work with him and his team at Timberline Custom Homes."
Ian & Jan, Stoney Lake, 2015
---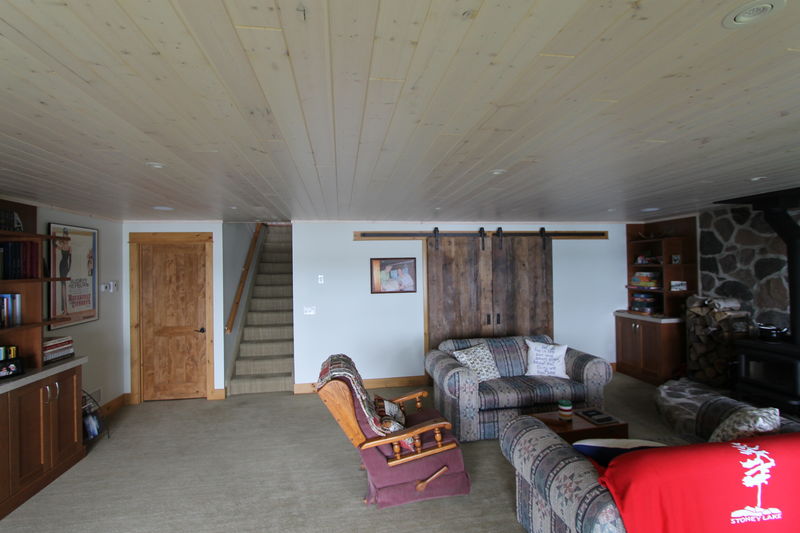 "This project was one of several we've undertaken in the past five years, since buying our cottage on Upper Stoney Lake in 2010. Each project has been done by Timberline, and we go back to them for the following reasons (and this last project was no exception).

Conventional wisdom is that if any major home renovation meets two of the following criteria, you should consider yourself lucky: very good quality, delivery on time, delivery within budget. Perhaps we're luckier than most, but Timberline has managed to deliver against all threecriteria on all our renovation projects. This was all-the-more surprising as a number of the projects were essentially 'floor to ceiling rebuilds' of various areas (e.g. kitchen, bedrooms, sitting rooms, new additions) of our 5 bedroom, two storey cottage.

Ray Northey and his folks at Timberline have a very approachable demeanour, making our interactions with them always engaging and helpful. They make great recommendations on design (building on our initial ideas and wants), and - because they know the region so well - they can suggest excellent service providers and appliance vendors with value-for-money in mind.

Most important to us has been Timberline's responsiveness to our occasional follow up questions or concerns; if something is not quite right, or not what we'd expected, Ray and folks are always there to make adjustments and ensure we're happy with the end result. Pride in the end product and a client service orientation set Timberline apart."
Brian & Brad, Stoney Lake, 2015
---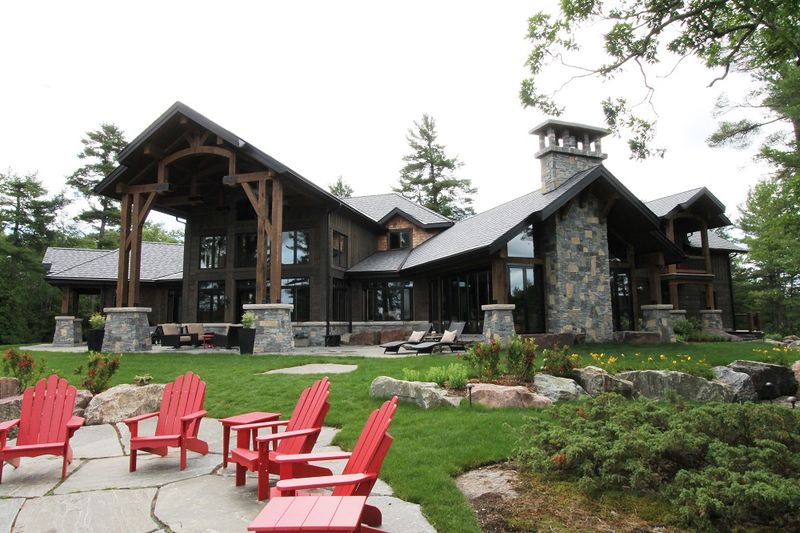 "Timberline Homes understood our vision. A home that on the outside, not only took advantage of the shape of the point of land to maximize lake vista's but blended into the landscape with very subtle and natural colors for siding, trim and stone. On the inside we wanted a home that reflected what we think we stand for. A place that not only welcomed you in but made you very comfortable, warm and at ease.
Ray and his team worked hard to utilize our choices of very old barn board for floor, lots of stone and wall coverings usually reserved for outside use (clapboard etc), old barn beams for stair treads, a massive stone tub, and a very demanding A/V and lighting plan (just to mention a few of our selections/challenges for them) to achieve something beyond our wildest dreams.
Thanks Ray & team (Fèith Lodge) A dream come true!"
Kyle & Rosemary, Stoney Lake 2014
---
"When we purchased this cottage five summers ago, we had a dream of adding a bunkee for our children. Although we had been at my parents' family cottage right next door for ~25 years, it was great to start to visualize our future extension of our own family cottage. As this cottage addition was designed as a once in a lifetime extension, every detail was an important decision and we took great care in picking the perfect custom home builder. My husband and I were not looking forward to living through construction, but Ray Northey and the Timberline team made this experience easy and hassle free. Not only did they take care of all our architectural drawings, permits, coordinating all services/inspections, referring all ancillary services (e.g. landscaping) they proactively offered suggestions on how to make our addition better. Their professional manner in clearly articulating what they would build, how much it would be, and how long it would take, while managing any changes through change requests, gave us great comfort. This approach enabled us to make informed decisions to manage our costs, quality & time. They built our addition over the winter while keeping the property neat & clear so we were able to access our property every weekend. Not only did they deliver exactly what they showed us on budget, it was ahead of time. Plus the workmanship was exemplary and exceeded our expectations!! Not only were we delighted, our children love it! We highly recommend Timberline to make your lifetime dream a reality!"
Doug & Sharon, Stoney Lake, 2009