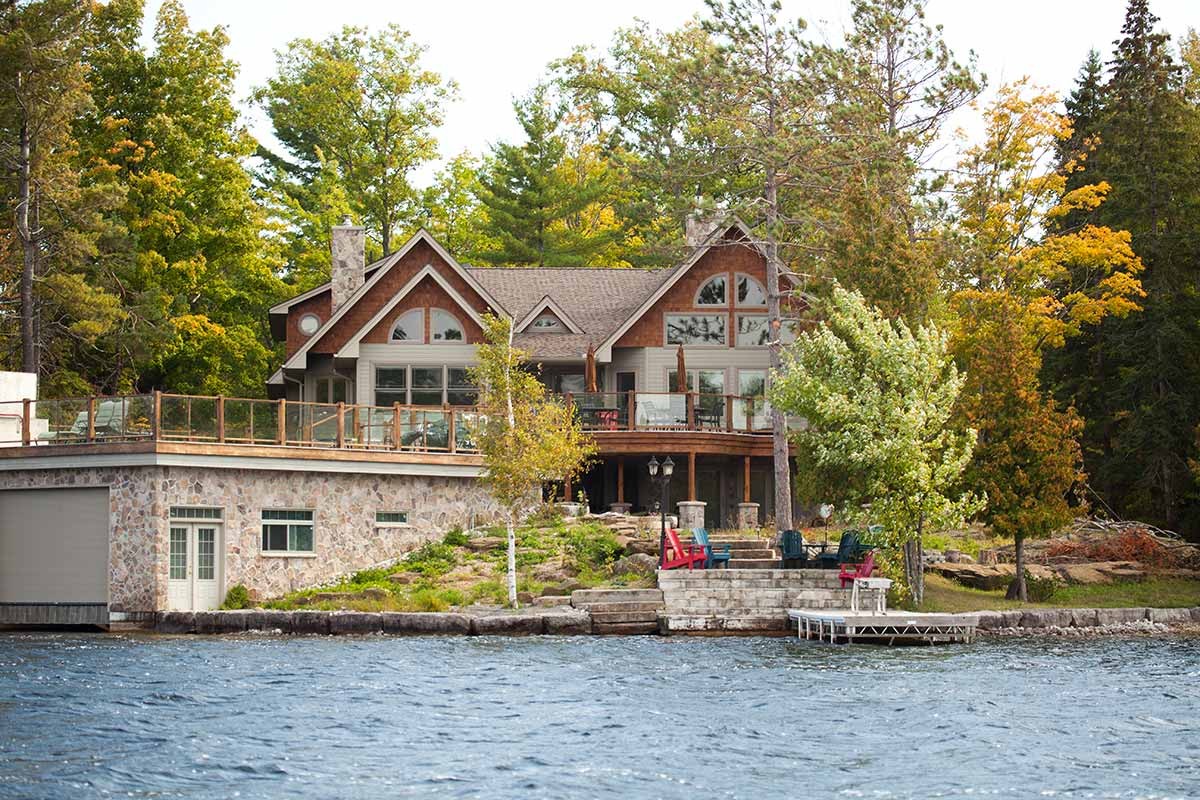 Stoney Lake Cove House
Stoney Lake
Sitting on over 900 ft of water frontage, this outstanding cottage was designed by William Hicks of Hicks Design Studio to take advantage of all spectacular lake views. Designed to blend into the natural shoreline, it is finished with black cedar shingles and a traditional cottage red roof, making it barely visible from the lake. Designed with unique roof lines, steel was installed on the dormers complimenting the corten steel suspended over the main entry doors. A mock chimney was incorporated to maintain the cottage's symmetric appearance. This cottage was built in a more contemporary manner with very simple detailing. It is constructed of concrete and wood framing, with steel incorporated to support the glass wall lining the lakeside with unsupported glazed corner windows.
As you enter the entry glass doors you are welcomed with an immediate view of the lake. The main gathering room with 15' ceilings consists of an open kitchen, dining and great room naturally brightened by the multiple small port windows arranged above the wall of lakeside windows. A large stone wood fireplace sits as the focal point in the great room, with a TV that drops down from the ceiling resting in front of it. Wood beams on the great room ceiling were manufactured and installed by local Mennonites, bringing more warmth to the space along with French oak scraped floor distressed. Through discrete pantry doors in the kitchen, you will find a separate kitchenette/pantry with a sink and small appliances. A wood burning fireplace warms the open screened porch used throughout all seasons. This room takes advantage of the sunrise, sunset and spectacular views of the waterfront. The exterior deck extends the entire length of the lakeside glass, with cooking areas, a fire and built in hot tub, the deck is intended to appear from inside like it connects with the lake reflecting a vanishing pool edge. Designed to accommodate an extended family, there are 3 separate bedroom suites including a private bedroom area and full bathroom in each, enabling the families to share the cottage. The basement consists of plenty of storage in the mud room and laundry, a children's gathering room, craft room, spare bedroom with a sunrise view, as well as a large fitness area.
This project involved blasting rock to meet the cottage foundation requirements. This property posed some challenges for accessibility during construction, being situated so close to the road while local traffic continued past. Due to the tight property, the septic beds were installed 400' from the cottage. Rock use from blasting was incorporated around the septic bed to appear as a natural stone retaining wall blending in with the surroundings.
This cottage design has successfully taken advantage of the remarkable views both North and West, as well as East towards the sunrise opposite the main lake, which can also be seen peering through the roadside glass door.
(1st Flr- 3240 sq ft, Bsmt- 2044 sq ft, Screen Porch- 295 sq ft)
Explore Photos